I rang Julie that morning. My heart sank when I heard her voice, it was obvious she was unwell, those sounds when people had a cold Th becomes a DA. I told her about the colonoscopy and the tumour and how much worse cancer was than a cold.
She was so kind and agreed to see me that evening. If I was a Christian it would be easy. I could pray to God seeking divine intervention and if I had enough faith in him I would not need to worry, he would take care of everything. You see worry can protect you from danger, however over a prolonged period the adrenalin and cortisol released from the adrenal glands will suppress immune function exhaust you and you will become ill, if you are not already, so getting your head right is the first phase of healing. It even has a name for it "psychoneuroimmuneology"
I had to sort out my head, my  problem was I stopped believing in God  in my early teens, after been told by my Granny God would strike me down for misbehaving, I did not behave and he didn't and I was sent to boarding school.
My mother was an atheist, but it was my Granny who brought up my sister Eleanor and I. Granny went to 9 o clock mass every day and my mother left her sort out our relationship with God. In 1960 Granny had been hit by a car and went to Lourdes in France, which she believed healed her and she spent spent the rest of her life thanking Mary and Jesus for the miracle. In her house their were pictures of the "Sacred Heart of Jesus", Mary the Pope and of course no Irish home was complete without a picture of JF Kennedy.
There was a small font of holy water by the door to bless yourself with when you went out. She had a bottle of this "Holly Water" which she got from the big font at the entrance to the church. Anybody who entered or left the church dipped their fingers into this water and blessed themselves. Granny had a bottle of it at home and if you were sick you had a swig from the bottle, when we had measles,a swig. Mumps a swig. Whooping cough, a swig. Chicken pox etc. In those days you rarely saw  doctor O Brien and the only treatment I remember getting, was a swig of holy water every morning and evening while I was ill. Perhaps this is where my cynicism towards the medicalisation of childrens health has come from. From the age of seven I slept in dormitories with hundreds of other boys, and drank "holy water" that must have been contaminated with the germs of thousands of people, who had dipped their fingers in it to bless themselves, perhaps this is  why I hardly ever have colds and flu,
In addition Granny had a saint who could solve every problem. If an animal was sick it was St Francis, If we were traveling St Christopher, as I got older she spent a lot of time chatting to St Jude the Patron saint of "lost causes". If you lost something it was St Anthony. I was impressed the first time I asked him for help, I was about seven and had lost my catapult. Made from the branch of a tree and elastic bands. Folded paper pellets, could inflict some serious pain on the back of someones neck in class, or my sister and her friends who came to play. Thinking back I wonder if any people were blinded by these weapons. No doubt Granny could have turned to St Lucy the patron saint for the blind if I had inflicted serious damage. Anyway my night prayers to St Anthony were answered and in the morning my catapult appeared on our front lawn. It was a miracle, in fact I witnessed loads of miracles as a child. Nevertheless I soon became disillusioned, prayers did not work very well for my school spellings and as  a young teenager praying was absolutely useless for getting girls.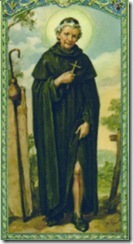 So now  at 54, I had cancer. St Peregrine is the patron  for cancer apparently he had cancer was about to have his foot amputated prayed all night and the cancer was gone in the morning. Now this approach does have appeal however it would only work if I would give up impure thoughts at night. Would I rather be dead than celibate? I would try something else first, before making such a choice. Who else  could help me  in my hour of need besides the NHS  doctors and my mother who had been dead over 20 years?
Julie met me about five o'clock that evening we talked for a bit about my irrational fear of dying in the next few months and how I feared I would never laugh again. I hoped she could help.
Describing what she says and does will see very strange to many. Hypnotism  may not be the solution for everyone, but without a shadow of doubt it has been amazing for me and has helped my through this. Julie would explain what she does better than I can, basically what she got me to close my eyes and think of all the bad things I felt related to the cancer, all these bad are put in an imaginary box, I close the lid and we dump the box. Then we have another box where I pack in all the positive things in my life and things that make me happy. Julie wrote down everything, a list for me to pin  on the wall at home; Health, Nutrition, Fresh Water, Love, Laughter, Friendships, Positivity, Staying Calm, Focused, Motivated, Belief, Help, Janette and the children, Courage, Strength, Single mindedness. We had finished the list when and additional item came to me, which seemed particularly relevant, an image of  Popeye the Sailor Man eating spinach.
In The 60s there was very little children's TV. In Ireland RTE started at five thirty with a children's program before the Angelus ( a call to prayer at six in the evening)  and that was  for the kids. In the summer I was out playing, in the winter  you were in and you never missed this half hour. I loved Disney characters like Tom and Jerry, there was Rin Tin Tin, Champion the Wonder Horse, Mr Ed the Talking Horse, Daithi Lacka an Irish version of Donald Duck. However my favourite character was Popeye the Sailor Man, and there seemed something symbolic in the power spinach gave him, now in my hour of need.
I knew I needed to make changes to my lifestyle if I was going to adapt  to the  cancer cells in me, but did I have the discipline. I had had a scare  ten years previously and decided then I would change my lifestyle, it lasted like many good intentions a few month. I was too busy had other priorities, not asking myself what could be more important than health?
When Popeye is weak and in difficulty he finds the spinach, squeezes the tin into its mouth and he becomes strong and is able to deal with all sorts of adversity, many examples on U tube. Popey was something I could relate to and is easy to focus on.
Out of all the thoughts  I put in the box Popeye and the kids became the things that helped me move away from the darker thoughts. When I choose Popey, I had no idea whether it would work or not. Writing this now in June 2011 having finished my initial course of chemo and radiation, I can see how successful its been helping me deal with my situation.
I have had no side effects and most importantly I have not had any sleepless nights. The first  weeks especially before I was given the results of the tests, I  thought about Popey every hour. Now its mainly  when the kids bring him up, Its fathers day as I write this and Popey features in all the kids wishes for the day. Popey has become a major part of my life and will remain, he makes me smile and reminds me how strong I have become eating my veg every day.
The kids and I have decided to convert one of the radiation tattoo markers on my pelvis to an image of Popey when I nam finished treatment.