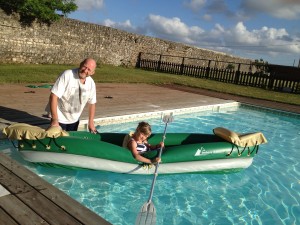 The longest march starts with the first step and up until France, they had been baby steps. Probably the first big improvement in my physical condition that would lead to the Great Wall of China happened during my ten days in France. On holiday sitting in doors watching TV because you are tired, is not an option, you have to do things especially with three young girls.
On June 31st we headed for France, I love France and we try and have a week there every year. Our 1st stop would be the Cathedral town of Reims, poor Janette had to do all the driving as I couldn't drive. I couldn't feel the pedals, so if my feet were on the clutch I couldn't feel the "bite" to change gears, or I would think my foot was on the gas and it would be the brake. It was dark when we arrived in Reims the plan was to break the journey there and just sleep in an inexpensive Hotel. Then have a look around Reims in the morning and then head off for Ile d'Oleron. Jeannette had found this hotel on the Internet which was very reasonably priced, there are called F1 Hotel, when you are just passing through you don't want to spend much money on a hotel. The problem was there was no toilets in the room you had to go down the corridor to use the toilet and shower, under normal circumstances this would not be such a big deal but when you often have to get up five times during the night to poo, it's a bit of a pain in the arse (no pun intended). The children have since christened the place "The F word Hotel" .
The next day we spent quite a few hours walking around old cobbled streets and visited the Catheral, we try to bring up our children as good atheists, however Isabelle lit a Candle, according to Molly to ask God to help me get better.
This was the longest I'd been on my fees in 6 months. I was really pleased with myself,, I did stop for a few coffees, I was tired but I knew I was getting better thank heaven for Crocs, during this time my feet were swollen and the skin dry and cracking and as I had no feeling easily infected. My Green Crocs were so comfortable and for four months thats all I would ever wear on my feet, except when I was on a horse.

An academic will look at the evidence and conclude there is nothing more that can be done for a patient. A good clinician has the ability to think outside the box to find a solution for a problem. So while this was a holiday it was also going to be an intensive part of my rehabilitation. I had great difficulty walking because of the lack of feeling in my feet and poor proprioception. My balance was poor, you can see a bit of me walking at the start of the video below and the wide stance I have to use.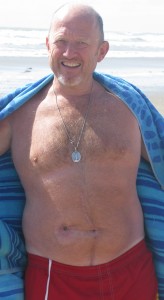 This meant to do intensive cardiovascular exercise it would have to be in a swimming pool as you don't have the fear of falling and you can go flat out in the water to raise your pulse level to the required rate. The house we rented in France had a pool however swimming doesn't do a great deal for balance and strength. The previous year I had learned to "surf" but as it now took me about 30 seconds to get up from a chair, it was not going to happen on a surf board, so I chose to do horse riding, I also went swimming in the sea which was very therapeutics. Told a couple of girls I was an undercover cop and had been shot in a drug bust which passed an hour of sunbathing. 
As a kid I was a good horse rider, could ride horses bareback, in fact I broke my arm when I was 7 falling off a donkey, so every day in France the kids and I went horse riding and the improvements was extraordinary by the end of the week.
In fact my children has shown such promise I thought it would be fun to take them out on a trek before we headed back to England. 20 min into the ride Janette's horse got spooked reared up and threw her to the ground, this freaked Isabella and Molly, especially Isabelle who was terrified, so we had to her horse on a lead. I'm trying to calm them down and take her mind off her fear by asking her to pose for the camera, which she was finding irritating but I think got her mind off Janette being thrown. The funny thing is Eloise the youngest, who when riding the previous year had fallen off Shetland pony that had bolted was very relaxed about the whole thing. I was probably the one most scarred because I had got off the horse when Janette had fallen to help her and as there was now no steps to help me get back on the horse, I had to use every bit of energy to do it, so I was exhausted sitting on the horse and I knew if my horse took off, I didn't have the strength in my hands to hold it or the strength in my legs to stay on, hence the poor quality of video. Now you know mostly silly video you see on TV have been set up because when disaster strikes, the last thing you do is keep recording, if you're concerned about  your family members who may have hurt themselves
Getting active again on a horse
The week in France was a great success, I had managed to train hard and felt a lot stronger as we came back to England. I remember we turned on the radio at Dover as it was being  announced at a a press conference that the football match between England and Holland was cancelled because of the rioting on the streets of London and they were considering bringing the military with plastic bullets on to the streets. It  was as though we had come back to a war zone. 
I went to see the chiropractor the following day  and my balance had improved and I was now being tested on a slightly unstable surface. Still no sensation in my hands and feet but I knew I was making progress and my Cooper test had increased another 200 meters to 1900 m
One of the problems during chemotherapy was a difficulty in eating healthy food, you have to chew a lot and sometimes it tastes rather bland. It was easier to eat things like biscuits, crisps and chocolate hence the fact I had put on so much weight. Now in France I would start my healthy eating. The fruit and veg sections in the French supermarkets are just divine, you can smell the produce at the entrance and it was a great place to start my healthy eating plan. That big guy you see in the picture weighing 101Kilo and as I write this in April 2013, is a much smaller guy, I weigh 85K , it was in 1996, I last weighed 85k, I intend to go back to 84 when I was 80k as young people rarely get cancer. Viva la France. France was also where Lance Armstrong won his seven "Tour de France's" after recovering from cancer and finally I got to read "Its all about the Bike.